JESSICA LUNDSFORD DESERVED A

PREDIATORS LAW IN PLACE TO PROTECT HER
Jessica Marie Lundsford Foundation
Jessica's Law PASSED! : To get Jessica's law in your area Simply Start a petition & Letters to Senators in your Area. Mark Lunsford Has taken action by starting Jessica's law. Click The Link above to visit Jessica's Site.
DRU SJODIN DESERVED A
PREDIATORS LAW IN PLACE TO PROTECT HER
3-07 Caroyln Calson Interview W/Dru's Mom: Life After Loss
Dru's Law PASSED! : July 27th Adam Walsh child safety &Protection act/ Dru's Law Was Signed By The President. Thanks to all of your help it has passed! Please visit drusvoice.com for details and continued updats and efforts.
Dru Sjodin National sex offender Public Website
CARLIE BRUCIA DESERVED A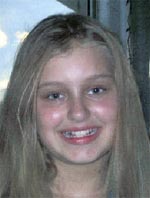 PREDITORS LAW IN PLACE TO PROTECT HER.
Carlie's law : needs our help to pass. Amber Alert Is working with Joe Bruica and began Carlie's Law. You can help by sending letter or fax to your local senators and congressmen. Click Link above to find out how to help.
heraldtoday.com Carlie'a Law Passed Senate
Re-Peat Offenders Took These Innocent LIVES AND MANY OTHERS!Our Children Are Worth Protecting! These are just a few of many who were tragically taken in this manner.
SAFTY TIPS VIDEOS & TRAINING FOR KIDS
yellow dino DVD (Stops Child preditors in their tracks!)
RAD KID SAFTEY TRAINING COURSE
Ed smart and Bob Stuber video tips in article
Similiar Organizations & Articles
License Plate Proposal Aims at Child Safety :
Ally Foundation/ Ally Bill Passed Into Law
Preserve Childhood Innocence website
Idled sex-offender law irks Sjodin's mother link from findmissingkids.com